10/19/15
Once again we chose to ignore my hunting tip #8 and arrived at our pull-off below Weston Pass even earlier than on Day 2. As it was pitch black and I was uncertain of my footing, Mike carried my rifle in his pack for the steepest section of our approach until dawn broke and it was time to chamber a round. He's the awesomest husband I know.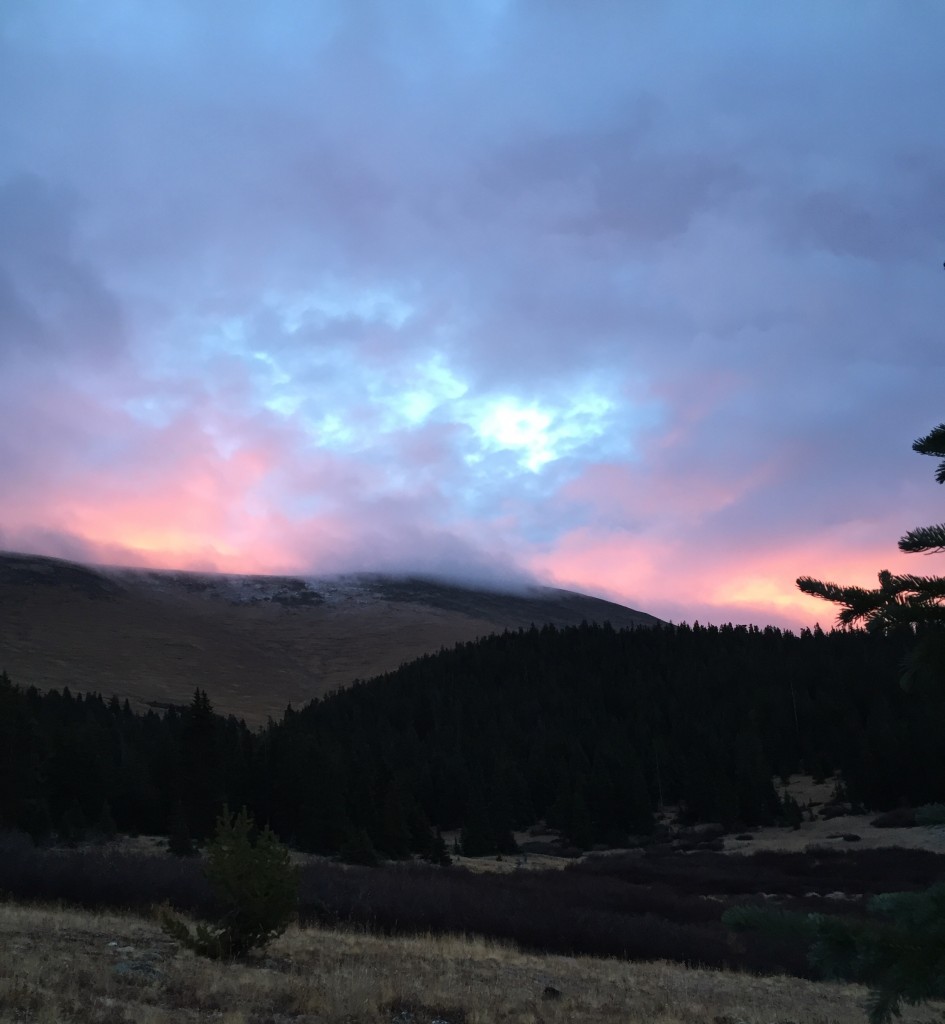 KIND bars have been our snack of choice for a few years now, and although Mike has never been an early morning breakfast eater (I must eat in the morning or I become an ogre), he snarfed a couple down before our ascent. The resultant gastric consequences provided hilarity soon thereafter.
"Did you hear something?" he whispered to me with a big smile halfway up the hill. "It sounded like bugling!"
I rolled my eyes as I did numerous times over the next hour while the nutritious bars wreaked havoc with his digestion. So much bugling. But I don't blame him for scaring away our potential dinner.
I blamed the monkey crow. I wish I'd thought to tap "record" on my iPhone when we heard him. Snow flurries were soft in the tree line, and because my ankle was feeling pretty good, I decided to stay with Mike as he traversed the higher grounds rather than loll about in the meadow where our elk really should have been.
The crow's laughter was an even closer imitation of monkey chatter than Mike can make, and we stopped to enjoy the merriment for a moment before continuing our stealthy trudge through and over thick and downed pines. Soft little Christmas trees with snow-sprinkled new growth sprouted where the old had fallen long ago, and well into our ascent, Mike stopped for a break. He's always thinking of me, but I could tell he was also beginning to get discouraged.
Within moments of hitting the trail again, I paused for a familiar routine. I knew he'd spotted a sign. Sure enough, there it was. Fudge-brownie-fresh poop.
We had already traversed too far for my comfort. My ankle was beginning to ache (I've been telling myself that hunting is good physical therapy after surgery, but at that point I was questioning myself) and I started praying to Diana, Artemis, Orion, all of the hunting deities, to hide the poopers.
Because "they" listened to me, we hiked and hiked, and hiked and hiked, until we came to another huge clearing far beyond and above the meadow I suddenly wished I had stayed in.
"Look. Classic elk terrain," Mike whispered. "This is where it says they should be." We've repeated this same message to one another in several locations already. It's become a joke.
"I know, but elk don't read," I whispered back.
"Racist," he replied. Muffled giggling ensued.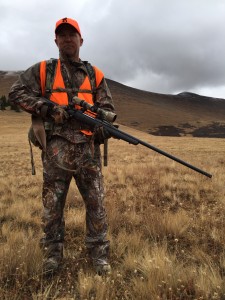 We crept around the enormous open space and I realized that not only were there no signs of elk anymore, but my ankle was seriously unhappy. And we were seriously far and high above where we'd parked. And we'd been out for hours and hours and I was ready to become a pescatarian. I like to fish. I like to eat fish. Fishing is easy. I can sit down while I fish. Fishing rods aren't that heavy. I can drive really close to where I want to fish.
"You stay here and rest. I'm going back into the trees over there and if I don't see anything, we'll head back."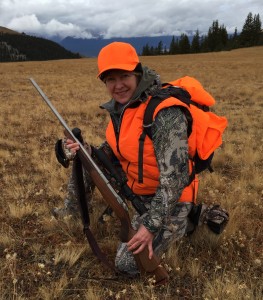 I was all about the heading back, but also truly concerned about the terrain. From where I stood, I couldn't see over the edge of the field. I had no idea how steep our descent would be. So after having him take the last photo in which I could smile that day, I leaned against a downed tree with my feet uphill and did my best to remain optimistic. And that's when I had a most unexpected visitor.
An elk? Not a chance. But at the spot where I landed in the acres and acres of terrain we'd covered that day was one little ladybug. For the next half hour as Mike searched for our elusive prey, she and I visited. I marveled at her resolve to stay with me, figuring it was because my body was far warmer than anything in that wind-whipped field. She made me smile, and by the time I had to set her free, I had steeled my mind for the final trudge.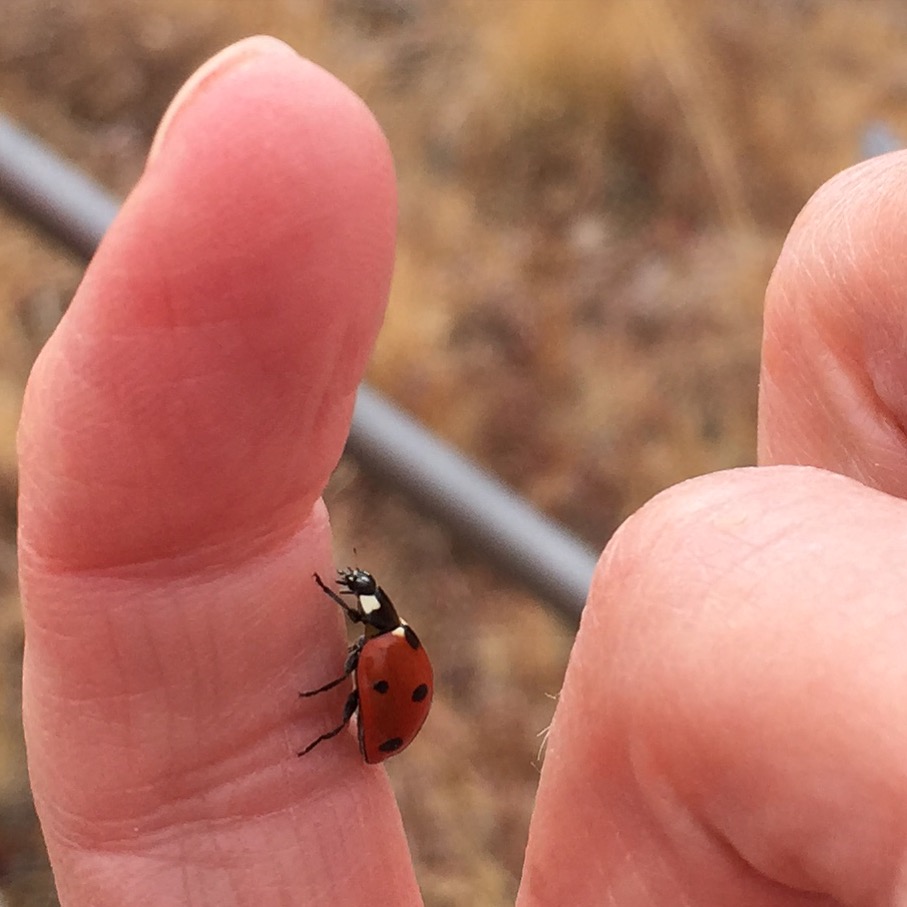 Without going into great detail, suffice it to say that my husband once again was my hero. He took my weapon from me and found a hiking stick to assist with the worst downhill journey of my life so far. I had to do several sections on my butt, so instead of crying (which I almost did several times), I gave thanks for the up-and-downstairs-butt-technique I had mastered in our house while on crutches just weeks before. (see crutches)
The descent was grueling, but the day was filled with beauty. And I had spent it with my man. We had no elk for all our efforts, but we were still together, still able to smile at the beauty of our surroundings, and still confident that . . . Day 4 would be "the day."