10/18/15
We heard that Weston Pass was the place to go to find our wily elk for sure. So instead of heeding my tip #8 for Day 1 prep (See tip 8), we drove up to a spot on the road below Weston Pass way before the sun rose.
The hike up to where we knew the elk would be was arduous (for someone like me with a gimpy ankle), but we made good time and got to enjoy the sight of dawn breaking over the cold Rocky Mountains. After a while, we hunkered down in some pine trees. We'd wait a while and watch the herds pass by. We'd have our pick of tasty future meals.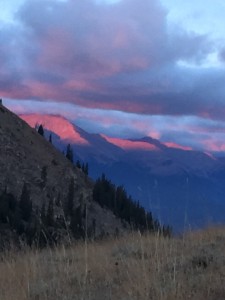 After about ½ hour, Mike decided to move farther up the hill. I stayed below. We'd have different vantage points of the same open area through which the elk would meander…at any minute. I drilled myself on the gutless method of removing the tenderloins. Dinner.
Suddenly I saw wild gesticulations from above, and when I followed Mike's pointed finger, THERE THEY WERE! Although difficult to see from my position, a cow, two calves and a spike were walking through a small clearing between thick pines on the far, far side of the meadow. Mike gestured for me to come up to where he was already in a firing position, but I think we both knew that the tiny window of opportunity and the distance were too challenging to overcome in the split second between seeing them and watching them disappear.
"I should've taken the shot," he said, "but by the time I had the elevation adjusted, it was too late."
"You did the right thing. You want a clean shot." I told him what he already knew.
"You stay here. I'm going over to see if I can pick up the trail."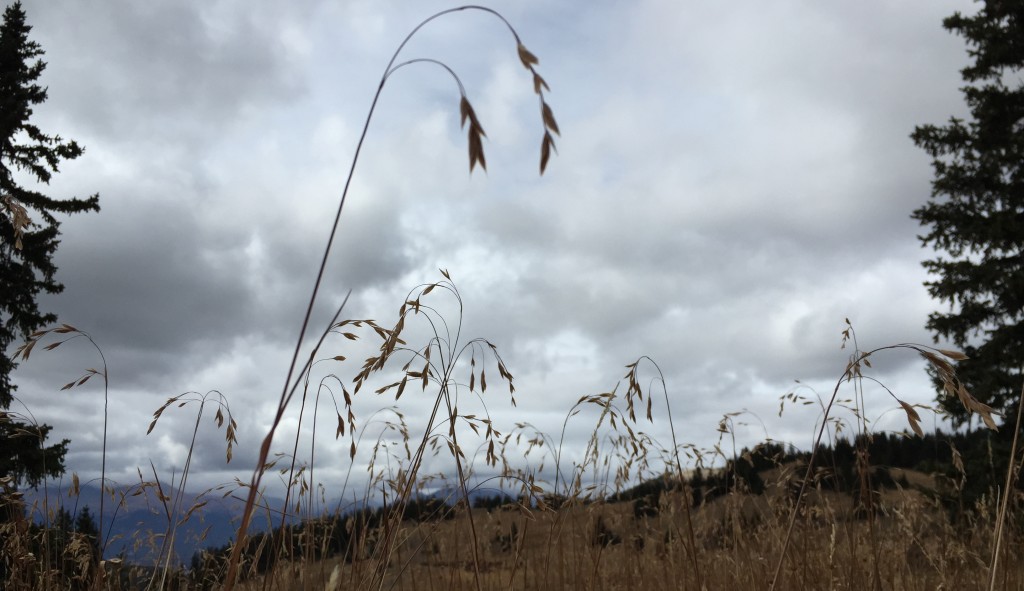 For the next 90 minutes, Mike hiked and I lay prone in the meadow grass by a large, dead tree trunk. Maybe he'd scare them out and I'd get my shot. Instead, I waited and lounged and peered through the grass, remembering my 5th grade teacher at Archie T. Morrison Elementary School in Braintree who had us do something quite similar during our poetry unit, but without rifles. I think she might have been the one who sparked my interest in writing.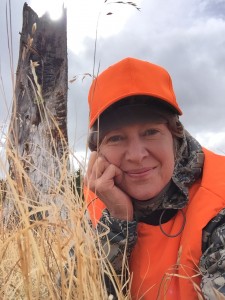 While Mike hiked, I shot photos, something my friends tell me I should be doing rather than shooting "poor innocent animals." I took my hunting glamour shot and visited for a while with a nosy lark bunting. I really do like shooting photos, but I'd like to know I could feed myself during the zombie apocalypse too.
By the time Mike returned, he was beat and I was ready to head home.
"There are tons of signs over there. It's like an elk highway. We'll come back tomorrow, okay?"
I would have agreed to anything at that point. We were silent as we drove home, tired and hungry, and our reward for our efforts on Day 2 was a glorious rainbow embracing our little Leadville.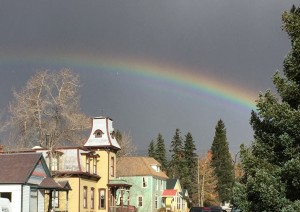 Clearly, Day 3 would be "the day."