Walk with me while I reflect on our third year of hunting the wily elk in a not-quite-stream-of-consciousness style. I'll use punctuation, but I'll make no effort to turn this into an essay. If I didn't use punctuation, I'll would look like Ill, and I'll get to that next.
I return from a week in Maine in time for my hunting week and try not to think about how much it's going to suck going from sea level to Leadville level. And I never-ever get sick, but I picked up a cold from a snotty-coughy-cute kid who sat next to me on the plane. I feel like I'm in a tunnel. But I will hunt the wily elk.
We're up at 4:30 a.m. and I hate getting out of bed in the morning because it's dark and cold and I have a cold and I'm in a dark cold tunnel in my head.
I'm less nervous this year, maybe because I already have two unsuccessful hunting seasons under my belt. Or maybe it's my cold medicine. Mike hesitates, asks if I'm sure I want to go because I'm a snot machine and making noises like a grunting snorting bull elk. Maybe it'll help.
We go. Our high sky is infinite black behind comets and constellations and a half-moon. The Big Dipper looms on the horizon spilling good luck onto our heads and under all of this majesty, I pee behind a bush. My cheeks are cold. All of them.
We climb. I'm happy not to be in too much pain, and what a difference a year makes after ankle surgery last year, but after a week at sea level, I'm sucking wind up the formidable Weston Pass trail, but once we get to the top, the sweet, cold, piney aroma of the waking earth fills my senses.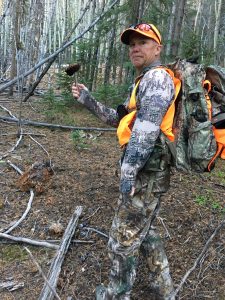 Blackness turns to purple turns to barely blue against a powerful pink before all fades to light, and when I can no longer see the stars, the moon overhead sparkles on the icy grasses we crunch upon. Mike is solely focused on the trail, finding tracks, finding elk poop—some even spreadable—that shows only they were here once but are here no longer. I'm focused on this blog and writing sentences like "Daylight greets us like a fond memory."
No signs of anything alive but us. As much as I want to hunker down and wait for a herd to pass—because they should be here, they always should be in the perfect places we stealthily approach—it's too cold for that. My nose runs in the cold and I'm a snot-rocket factory.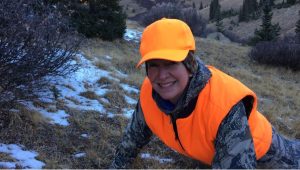 We each do our 22 push-ups for veteran suicide awareness (#22kill campaign) and head back to the truck, willing a herd or even just one tasty treat to cross our path. It doesn't happen. We sigh, heavily.
In the evening we hike around Mt. Zion. "We'll zig-zag," Mike says, but I know how Mike zig-zags and how many punctuations of straight ups there'll be and when we get to the fifth or sixth or seventh straight up and it's starting to get dark, I pout. I struggle to think of an analogy for what we're doing because it'll take my mind off pouting.
Trying to find a wily elk in endless acres of forest and valleys and ridgelines and mountain sides is like trying to find the one sane almond in a nuthouse. It's nearly impossible and quite possibly futile. Especially since almonds rarely talk.
There.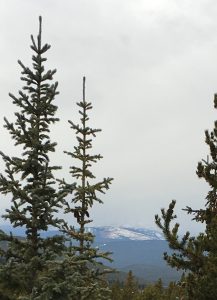 I want to laugh when Mike's pack catches on a dead limb and its release results in a cartoonish "BOING" sound. And then we both hear a sound that stops us in our tracks. Suddenly all senses are on fire and I'm barely breathing. Even my snot stops running.
"Move r-e-a-l-l-y slowly now," Mike whispers, and we head toward the animal sound. Half of me hopes it's nothing because it would be a bitch to get something big out of these trees at night. The other half wants to get something big out of these trees. We move like molasses in winter toward the patch of trees waiting to hear our prey and there it is again!
Simultaneously, we look up.
No, no elk in the treetops, but the rubbing of one dead tree against another in the blustery breeze makes a sound much like a large, grunting animal.
We end the day—and every day this hunting season—as we begin it, with stars and various moons emerging against darkness, more beautiful than any painting on black velvet.
And "Darkness greets us like a black velvet hug."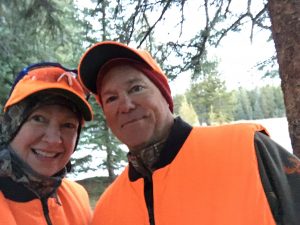 If you like my writing, you might enjoy my books! Check them out here, and thank you!