Poet Judy Cole visits with me and shares her poems and the story of her evolution as a writer. Judy and I talk about some poetic forms, but not 100 of them! And have you heard of "flarf poetry"? Perhaps it was inspired by Gertrude Stein!
_Show Notes with Links:

– We talk about Associate Professor Jeff Runyon's poetry and creative writing classes at CMC
– Dr. Seuss and early adventures with poetry
– My constant challenge to convince Judy she IS a poet!
– Chaffee County Writers Exchange inspiration
– My interview with song lyricist and author Keith Steinbaum
– Judy's reads her birthday poem to her husband
– Fishing and the little red schoolhouse in Leadville
– Accidental dactylic pentameter
– Poetry as a puzzle
– Judy reads her "randy" poem "Still Crazy After All These Years"
– Judy finally admits she's a poet!!!!!
– Judy reads "Nature's Currency"
– We talk about other forms of expression
– Judy reads a political poem, "Mirror Mirror" and we discuss Disney
– Judy reads a poem dedicated to her girlfriends and we talk about the passage of time
– Shout-out to Becky Young, youth programs coordinator at Lake County Public Library, and discussion about her poetry night and "nonsense" poems
– Judy reads "Soft Kitty, Warm Kitty," and makes me cry again
– She discusses a clever way of naming pets
– Homage to Anne McCaffrey
– and to The Big Bang Theory
– Flarf poetry and Gertrude Stein and listening versus reading poetry
– Shaking up expectations
– Judy reads "Life's Little Choices" and we discuss creating her first book
– Judy reads a fun poem with no title about dandelions and we wonder why there are so many haters, and I share my May Bee haiku
– Want more info and inspiration for Haiku? Check out these two books:
Haikus Can Amuse: 366 Haiku Starters
Hai CLASS ku: Classroom Warm-ups


If you enjoy my podcasts, you might enjoy my books!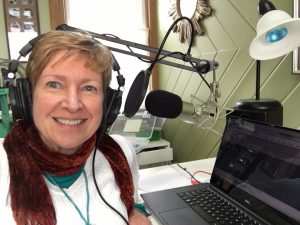 If you enjoyed this episode and others, please subscribe to Alligator Preserves on iTunes, Stitcher, or wherever you get your podcasts, and tell your friends about it! I'd love it if you "liked" the episodes you listen to, and I'd love it even more if you'd post a quick comment!
Please support Alligator Preserves on Patreon. You will be rewarded!