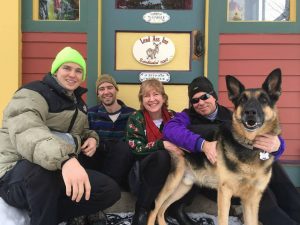 I'm sharing my 9th short story with everyone–a Christmas story about work/life decisions and a man presented with a dilemma.
As a bonus, I read my personalized version of the beloved poem "The Night Before Christmas."
Listen Here:
Show Notes with Links:
Short Story #9: "The Blessed Biscuit" narrated
The idea of having enough
I read my version of "The Night Before Christmas" (The Lead Ass Inn is the name of our home, Klaus is our life-size nutcracker, Charlie is our guest cat, Melanzana is a Leadville shop which makes hoodies and all kinds of good wear-gear right in shop)
Link to my version of the Christmas poem
More Links:
If you enjoy my podcasts, you might enjoy my books!
If you enjoyed this episode and others, please subscribe to Alligator Preserves on iTunes, Stitcher, or wherever you get your podcasts, and tell your friends about it! I'd love it if you "liked" the episodes you listen to, and I'd love it even more if you'd post a quick comment!
Please support Alligator Preserves on Patreon.  You will be rewarded!