Having friends and family say they enjoy my writing makes me glow inside.
Having complete strangers (and professionals in the publishing industry) agree        makes me positively giddy!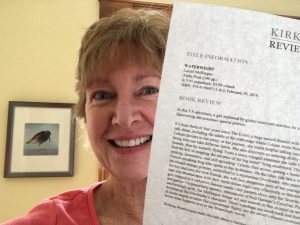 Here's what Kirkus says about Waterwight:
In this YA adventure, a girl orphaned by global cataclysm searches for a new home, encountering talking animals and discovering she possesses special powers. It's been three or four years since The Event, a huge natural disaster with unnatural consequences that no one wants to talk about, including the adults at the orphanage where Celeste Araia Nolan, about 14, now lives. After a strange dream, Celeste decides to run away; in her journey, she meets helpful talking cats and dogs and the dangerous Shifter, an evil
being who can take different forms. She also discovers an amazing ability: she can defy gravity, first with leaps and
bounds, then by actually flying. From a stony-visaged mountain she calls Old Man Massive, Celeste learns she "must find the key to stopping the advance of the big water" lying southward. This is no normal ocean; it's pink, gelatinous, reeking, destructive, and still spreading. Celeste flies across, getting a boost from Orville, a talking, winged,
French-speaking frog who spoke to her in dreams. On the other side lies a village of children, survivors who have also
developed strange powers, controlled by a mysterious Overleader, who punishes rule breakers. As Celeste works to find the key and save her new friends, she will face dangerous tests of her courage and resolve. McHargue ("Miss?", 2013) taps into dreamscapes with their myth/dream logic very effectively in this entertaining novel. The section where Celeste gets trapped in a seductive fantasy castle—her parents alive, only her favorite foods on the table, every room full of toys and games—is powerfully spooky, reminiscent of Neil Gaiman's Coraline. Post-apocalyptic YA fiction can be unrelentingly grim, but McHargue brings wit and warmth to this account as well as psychological insights, particularly in developing the Overleader's character. There's perhaps too much back and forth from the village to the mountain (Celeste begins to seem like a commuter flight), but the novel's charms overcome this defect. Readers should want to know what happens next in the Waterwight world.
Striking dreamscapes make this tale about a heroine who can fly a fine first outing in a planned series.
Here's the link to the review on their site: Kirkus Review of Waterwight
So what are you waiting for? Order your copies today!
Waterwight: Book I of the Waterwight Series