Every year, Leadville's Herald Democrat newspaper–Leadille's hometown newspaper since 1879— runs a "favorites" poll. Readers can vote on their favorite things, including everything from restaurants to, well, just about everything!
Yesterday, a knock on my door delivered a most lovely surprise: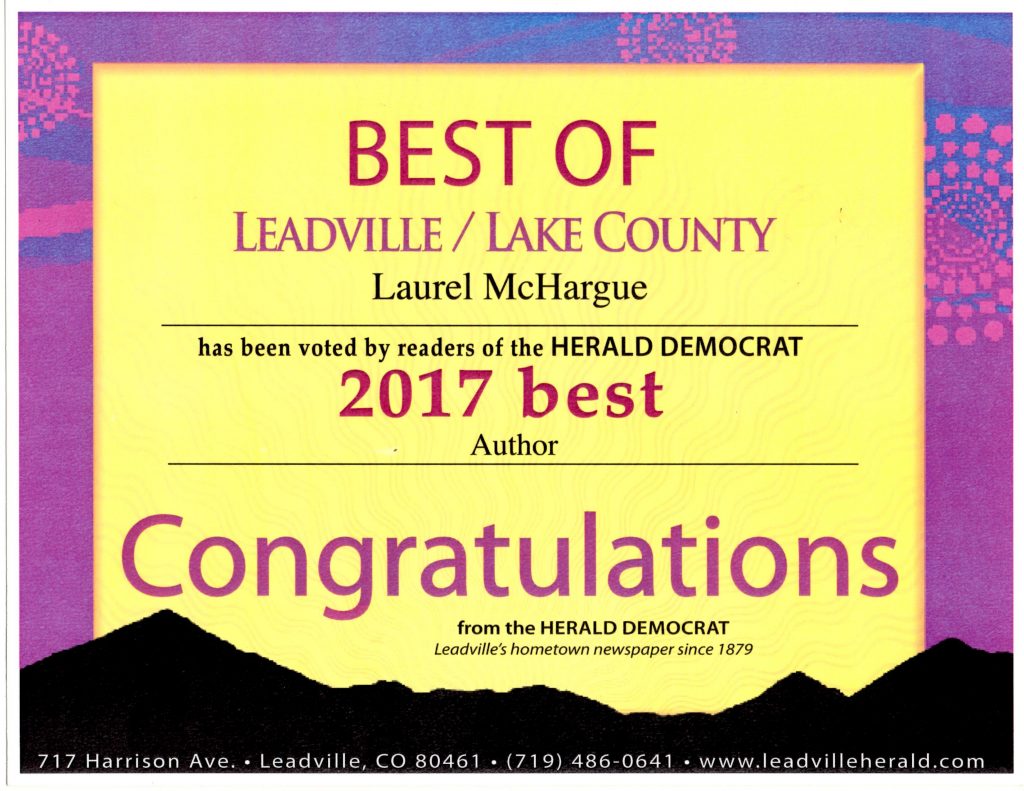 Thank you, Leadville and Lake County residents, for taking the time to vote in the last poll, and for nominating me as your favorite local author. I feel truly honored.
I will continue to do my best to provide books for a variety of readers, and I would encourage you to do what you can to support our other local authors. How fortunate we are to live in a county with so many talented and committed artists!
Other local authors with links to their latest work include (and please contact me if I'm missing any!):
Carol Bellhouse: Sentinel

Kathleen Fitzsimmons: Leadville: Then and Now
Peggy Forney: Healthiest Places To Live: Where You Live Makes a Difference

Amy Frykolm: See Me Naked: Stories of Sexual Exile in American Christianity

Lynn Hall: Caged Eyes: An Air Force Cadet's Story of Rape and Resilience

Bob King: For My Grandchildren: Principles for a Successful Life
Stephanie R. Sorensen: Toru: Wayfarer Returns (Sakura Steam Series) (Volume 1)

Hal Walter (former Leadville Newspaper Editor): Full Tilt Boogie: A journey into autism, fatherhood, and an epic test of man and beast

Christine Whittington: Body Marks (out of print)
Stephen Whittington: Archaeology and Ethnohistory of Iximché (Maya Studies)
and Bones of the Maya: Studies of Ancient Skeletons (1997-12-31)
Special thanks to Elise Sunday (Fire On The Mountain) and Brenda Marine (B&B Shipping and More) for carrying and selling my books since my first publication in 2013.
And if you haven't yet heard, I'm hosting a podcast (which I started in late January) called Alligator Preserves in which I tell stories and interview others with stories. Perhaps you'd like to share yours? Listen to one or two and see (*hear*) what you think!
Contact me @ laurel.mchargue@gmail.com and
find my books on Amazon HERE.