What would you do if the internet and your phone service were down and you had no idea when or if they'd be restored? This happened to me on August 1st. Find out what I did!
Show Notes and photos: 
Sitting. Simply sitting in silence. I can't remember when I've done this lately.
It's because the internet is down and we have no service. No phone, no Facebook, nothing but me in this $20 thrift store chair and Ranger plunked down on the floor looking at me with wonder or boredom. I'll say wonder.
I found the beautifully upholstered chair amidst a mass of should-have-been-discarded furniture and knew I'd found a treasure. Yellow, blue, green and white, my favorite colors, it sat like a blossom in a desert, complete with arm protectors and matching throw pillows. I looked it over quickly, sat in it, realized it was the kind of chair I've been searching for, and ran through the wasteland to the cashier.
"How much for the yellow chair?"
"Oh, twenty dollars, I guess."
"I'll take it."
My Mum would have liked this chair; it fits a smallish person just right. And she would have liked that I wrote about it while sitting in it, quietly, while the pork in my crockpot falls apart. With no internet, no phone, no heavy machinery outside my window because they've finally finished paving the road, I made chicken salad for lunch and got dinner started. I walked with Ranger and watered the plants outside. It's August first, and my daisy plant has just now decided to open nearly every bud. Life's tough for a plant in Leadville.
Mum wasn't happy with my decision to move to Leadville. "Why would you want to go backwards," she asked after visiting for the first time. She loved our Colorado Springs McMansion and never did understand why I'd want to live in a house like the one her father lived in, an old Victorian with creaky floors and possibly ghosts.
I've written my most creative pieces atop these creaky floors. Sitting in my $20 chair now, I realize this is the first piece I'll write in it. I placed it in an empty corner in our dining room figuring I'd eventually move it upstairs, but it wanted to stay there by the morning sun window and next to the sleigh seat table I used to bounce on as a child.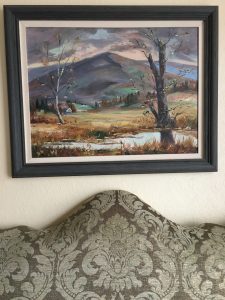 I realize Mum's spirit is everywhere in this room. Her dining room table—the one on which she made my sisters' wedding gowns and around which she hosted decades of celebrations—is showing its age, as am I. Her paintings—there's one in nearly every room—are a constant reminder of her creativity and humility. She painted till the end, but never thought she was "good enough."
Before she died, we teased about where her ashes would go. "I'm definitely bringing at least some of you to Leadville," I told her. "You do that and I'll haunt you!" she said, and we laughed.
Funny Mum. Don't you know you're all around me every day?
She frequently reminded me to take care of myself. Take time for myself. Meditate. It was advice she rarely, if ever, followed herself. But this is not a piece about my Mum. This is a piece about sitting in silence.
I wanted to call my youngest sister, Carol, today to tell her how suddenly sad I felt that our Mum and Dad wouldn't be there for her youngest son's upcoming wedding. Carol married one year after I did, but my wedding was the last one our Bupa attended. He was my Mum's father, and he was several sheets to the wind by the time the garter ceremony began. He wouldn't let anyone, including my brand new husband, remove the garter from my leg. Nope. He pushed Mike away and did it himself.
Grandparents add a certain feeling of validation to big events like weddings, or in my comical case, a reminder that age has its privileges. So I'm sad my parents won't be there for her son's wedding. And should my sons someday marry, they obviously won't be at their weddings either. Wow. That just hit me.
My parents were Nick's caretakers for the first two months of his life as Mike and I were in grad school when he was born. We'd come home to a clean house, dinner ready, and our baby asleep in my father's arms. Although I was not working when Jake was born, Mum and Dad were there to provide the same care and love for his first six weeks of life. I never turned down their offers of assistance, and they made sure Nick had as much attention as the noisy little interloper.
Funny what goes through your mind when you're surrounded by silence. And I can't call Carol to tell her how sad I feel because there's still no service. What if internet and phone lines couldn't be restored? Now, there's a funny thought. I'd have to write a letter. I could do that. Sometimes I wish the internet would disappear so we'd all have more silence in our lives.
Our lives are driven by the calendar and what we have planned for tomorrow and tomorrow and tomorrow. I just flipped my calendar to today, the first day of August, and back-to-school thoughts flood my senses.
I remember back-to-school butterflies and setting out my first day of school finery, one new dress and new shoes from The Bargain Center, the night before school. I couldn't wait to walk to Eldridge Elementary School with Carol and my best friend Marilyn, crunching fallen acorns under our heels and sticking flighty little maple seedlings onto our noses along the way. Maybe there'd be new kids to meet. Maybe there'd be a cute boy.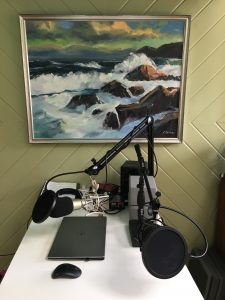 I don't remember calendars in my early grade school days. I remember recess and lunch tokens and projects I'd research in our Britannica Encyclopedias, our 1960s internet. And I remember cute boys.
The Darcys moved into our neighborhood when I was in 3rd grade and I was in love with the new boy. Richard was tall, dark, and handsome, and had the most beautiful lips I'd ever seen. How I longed to kiss them. I remember falling into "his" chair—he wasn't in it—during lunch one day. The 3rd grade classroom was also the lunch room, and in the hubbub of exchanging tokens for S.O.S. and a carton of milk, I'd lost my balance. I felt wonderfully naughty sitting there in his seat, though I'm quite certain no one else suspected my secret thrill. I never did kiss those lips.
And then there was Rick Tessari, the new boy in 5th grade. He was Johnny-Depp-handsome and had the most beautiful cursive handwriting I'd ever seen. I like to think my taste in men was maturing, though I did kiss his lips after a rousing episode of spin-the-bottle one afternoon. What was a girl to do back then with no internet? There were only so many things one could learn from Britannica.
Ranger's nose pokes me from my thoughts. Time for another walk. If the internet's still out when I return, I'll resume my reverie.
We're back, and it was the perfect walk for a thoughtful day. Ranger wanted to sniff every fifth clump of grass and I let him. His age is starting to show too, and although I could have strolled longer in the cool evening breeze, his sniffer was satisfied and he led me back home to plunk by my $20 chair where I sit, again, in silence.
Mike returns, the sun sets, and the aroma from my crockpot makes me salivate. I'll serve the pork over noodles. Mum would approve.
More Links:
If you enjoy my podcasts, you might enjoy my books!
If you enjoyed this episode and others, please subscribe to Alligator Preserves on iTunes, Stitcher, or wherever you get your podcasts, and tell your friends about it! I'd love it if you "liked" the episodes you listen to, and I'd love it even more if you'd post a quick comment!
Please support Alligator Preserves on Patreon.  You will be rewarded!