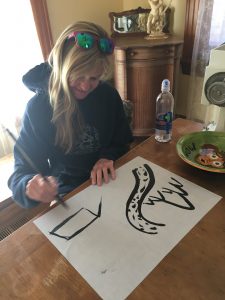 Some might say that the Tour Divide would challenge the fittest among us. After all, this annual bicycling epic spans 2,745 miles between Banff, Canada and Antelope Wells, NM, right on the Mexican border. Some might even say that a person with Multiple Sclerosis would be a fool to attempt such a feat.
But not Grace Ragland. Having lived with M.S. since age ten (and she admits to being "50ish" now), she has yet to meet a challenge with an "I can't." When a friend mentioned trying this ultra-endurance event, Grace knew she had to challenge it. Spoiler alert: Grace is the first person with M.S. to complete The Tour Divide.
*I offered the book title suggestion "Divide by One" to Grace and to Brent Goldstein, another TD finisher (I'll interview him soon!).
Listen here, and see daily photos of Grace's epic journey on her website:
 Show Notes with Links:
Grace discusses the years before her diagnosis with "relapsing-remitting Multiple Sclerosis" and how she dealt with the news.
Her mother's encouragement and advice
Personal physical challenges in the years before The Tour Divide
Link to David and Jana Zangerle's episode (tandem bike racers)
Denver Post article from Grace's 4th LT100 Mountain Bike finish (buckled!)
When she's not training, Grace has another secret talent
Links to Elden Nelson's episode and his blog
Meeting Brent Goldstein, and the First Descents Organization
National Interscholastic Cycling Organization (NICA), its inclusive mission, and Grace's involvement
Grace's friend, riding for Shami Butter, suggests the Tour Divide at "Inn the Clouds, The Leadville Hostel and Inn"
Link to Ken Chlouber's episode (Founder of the Leadville Race Series)
Grace talks about how she got her Salsa Cutthroat Touring Bike
More about The Challenged Athletes Foundation
Special gear (aside from her touring bike) that helped
Guinness Book of World Records? We'll see!
Finding "Da Brim" to protect her from the heat
Grace discusses her worst, scariest day (bacon lovers out there will love this part!), her best day, and trail angels
CLIF BAR! How about a sponsorship?!
What's next for Grace? Steve Justice . . . get ready to be a ghostwriter for her book!
Grace's blog: https://graciedamnit.wordpress.com/
Grace's email: graciedamnit@yahoo.com
Grace's local news link to her story: Local Mountain Biker says . . . 
More Links:
If you enjoyed this episode and others, please subscribe to Alligator Preserves on iTunes, Stitcher, or wherever you get your podcasts, and tell your friends about it! I'd love it if you "liked" the episodes you listen to, and I'd love it even more if you'd post a quick comment!