Ever wonder how writers are inspired, what their routines look like, how they make characters "real" and relatable? I have answers for aspiring writers of every age!
After my Skype session with a language arts class in Texas, the teacher compiled a list of insightful questions from her 7th grade students and sent them to me. In this episode, I answer them all!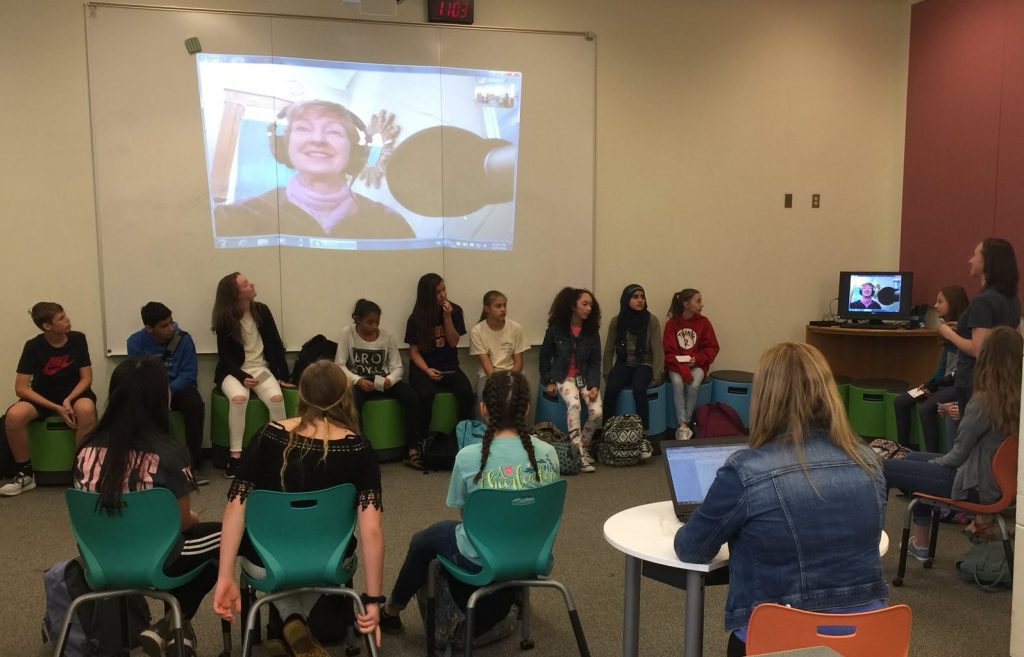 My sincere thanks go out to the staff and students of Ridgeview Middle School in Round Rock, Texas for their enthusiasm and sincere interest!
Show Notes with embedded Links:
(These are the questions I received. For answers, listen to the episode!)

What would you recommend when you have writer's block?
Haiku "starter" books to break through your block: Haikus Can Amuse: 366 Haiku Starters and HaiCLASSku: Classroom Warm-ups
How do you make your characters more real and relatable? Here are two sites (there are many) with interview questions for your characters: 100+ Questions, How to Really Get to Know Your Characters
What tips do you recommend for coming up with ideas? (check out how Neil Gaiman answers this question!)
What troubles did you have along the way of writing your series?
Author Carol Bellhouse helps me stay in the right POV and tense (check out some of her books!)

Notes on what might happen in Celeste's chapters!

How did you come up with the idea of Waterwight?

Note on what might happen in the antagonist chapters

What was your first kiss like? (listen to my episode Kisses, Cooties, and Other Scary Things)
When you wrote your first book, did you plan it to be a series or did you just start writing and then decided to make it into a series?

Notes on what might happen in the village

Where is your go-to writing spot? (I wrote The Hare, Raising Truth in our weird little red room!

My little red room with the Harry Potter door under the stairs! Note the flying frog in the upper right corner! (I moved the chess set off while I worked in this room)

Did being in the Army affect your writing style/type of pieces that you write? (See my piece Battle-Dressed Breasts for one example of the Army's influence!)
How old were you when you decided you wanted to be an author?
Did writing start as a hobby, or did you have a job when you started writing? (I completed most of "Miss?" during a NaNoWriMo challenge!)
How do you write in a genre that you aren't comfortable in?
How do you prolong stories (make time pass slower) in order to add more suspense or volume to the book? What happens if your story is 23 pages and it's almost over?
How do you show detail?
When you are in the middle of writing a story and you get stuck, what helps/inspires you to keep going?
How do you plan out your stories? Do you have a certain process that you follow every time you write? (Listen to my episode: Are You A Pantser? to learn more about writing processes). Many different processes. Different for my nonfiction book Hunt for Red Meat (love stories)
What inspired you to start writing?
Who's your favorite author? What book of theirs? (These are links to many I have enjoyed and would recommend, but I will never pick one "favorite." This list could be quite long, but these are one's I mention in my answer):
– Steinbeck's The Grapes of Wrath
– Steinbeck's Travels with Charley in Search of America
– Bryson's  A Walk in the Woods: Rediscovering America on the Appalachian Trail
– Gaiman's  Coraline
– Gaiman's The Graveyard Book
– Collins' The Hunger Games Box Set: Foil Edition
– Lowry's  The Giver (Giver Quartet)
– London's The Call of the Wild
– Gruen's  Water for Elephants: A Novel
– Verghese's  Cutting for Stone
– Hesse's  Siddhartha
– Dahl's The BFG
– Paulsen's  The Transall Saga
– L'Engle's  A Wrinkle in Time: 50th Anniversary Commemorative Edition (A Wrinkle in Time Quintet)
– Stegner's  Angle of Repose (Contemporary American Fiction) by Stegner Wallace (1-May-1992) Paperback
– And of course, ANYTHING from Dr. Seuss!
Other Links:
f you enjoyed this episode and others, please subscribe to Alligator Preserves on iTunes, Stitcher, or wherever you get your podcasts, and tell your friends about it! Please support Alligator Preserves on Patreon.  You will be rewarded!
Submit your books to the prestigious 2018 CIPA EVVY Awards. The website for more information is at cipabooks.com. You have until May 19th, so don't miss out!
And if don't have a book to submit but love to read, please volunteer to judge this year's submissions (and you'll get a bunch of free books, too)! Click on this easy link to receive your favorite types of books. You choose how many and what kind of books you want. Remember – you get to keep all the books you judge for FREE!