Ride a mountain bike over 100 miles in tricky terrain over 10,200′ elevation? And do it again and again . . . despite extreme adversity?
Ty and Roxanne Hall have eyebrow-raising stories about their experiences training for and participating in the Leadville Trail 100 Mountain Bike Race, and tips for anyone who might consider signing up for this challenging race series. Do it! Sign up!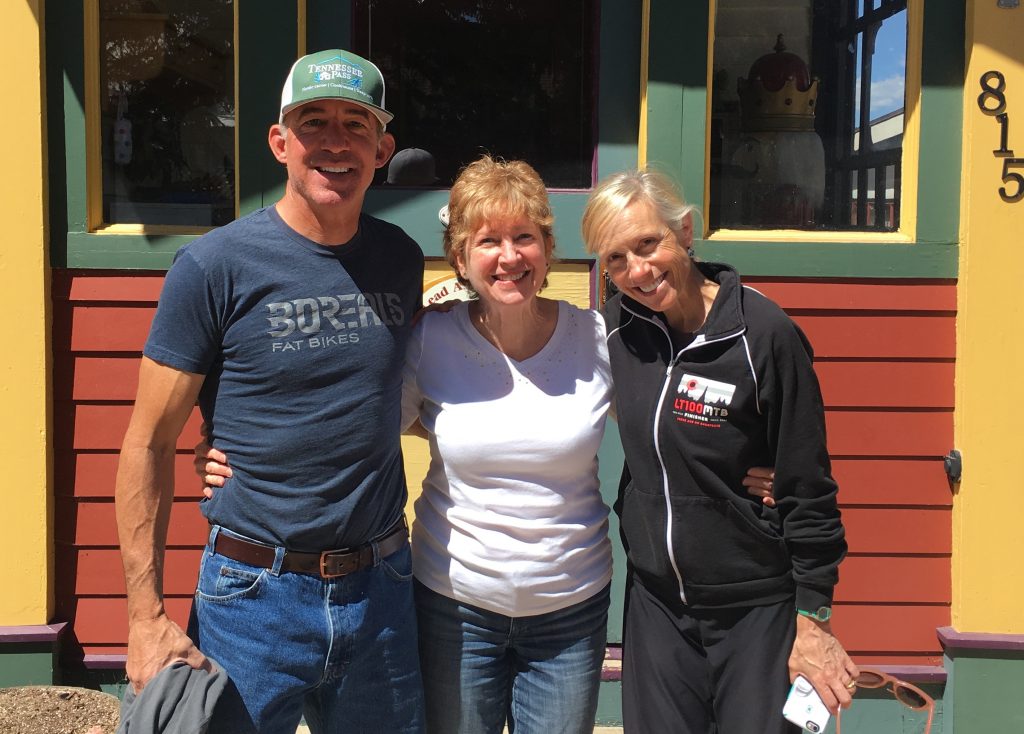 Ty and Roxanne Hall share their experiences overcoming adversity and racing the LT100 Mountain bike race!
Show Notes with Links:
Link to SPECIAL EPISODE: Leadville Race Series with Ken Chlouber
Ty and Roxanne Hall, owner of the Tennessee Pass Nordic Center,  Cookhouse and Sleep Yurts discuss how they met and why they race (are they born with the  desire?)
Roxanne's mother is in the Sports Hall of Fame in Leadville and in Denver for her contributions to the skiing world. Roxanne loved gymnastics
The camaraderie of racing
The early days of the LT100 Mountain Bike Race (started in 1994, and Ty first raced in 1995 with about 150 other racers)
Crewing for the race
Roxanne talks about her horrific accident in 2008 and subsequent recovery
Roxanne's Ange Guardien de Velo (Guardian Angel of the bike) project
Owner of Melanzana makes special items for Roxanne during her time on crutches, and Harperrose Studios promotes her work
They each talk about food for racing
Tips for newbies to the race
Ty's participation in the "Tomorrow Chaser" project…raised @$35K last year for the community
How long will they race?
How do they want to be remembered?
First Descents (please consider donations!)
Wounded Warriors (please consider donations!)
Legacy Foundation (please consider donations!"
HAVE A GOAL! SIGN UP!
Other Links:
f you enjoyed this episode and others, please subscribe to Alligator Preserves on iTunes, Stitcher, or wherever you get your podcasts, and tell your friends about it! Please support Alligator Preserves on Patreon.  You will be rewarded!