[the envelope for this letter has a scratched out "10 Pon…" then the new address, 79 Centre Street.  Still Dorchester, Mass., no zip code]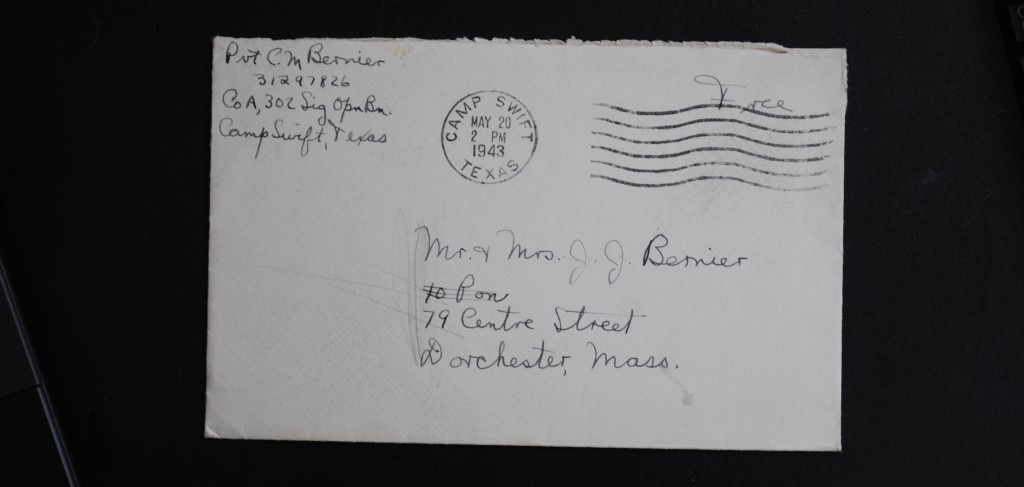 May 18, 1943, Tuesday
Dear Mom, Dad, Kay & Jake,
Here's a few lines from your still in Texas son. Fellows are leaving here weekly for school to Camp Crowder, and my hopes of Monmouth are fading. However there may yet be a chance.
Well how do you like the new house? I'll bet it's swell compared to the old on. It certainly seems funny not to be addressing my letters to 10 Pond anymore. I suppose you miss it already. I won't know anybody when I go home now. You must be happy to be down there because you've always wanted to be.
I haven't heard from the fellows lately, except Carmie. He's written me twice in a week so I'm going to write to him next. When you were at Pont St. I figured there wasn't any need of writing to them because they were always up the house. Now you've added names to my list by moving.
I had a fairly busy weekend. Saturday they had five inspections. That's quite a record for here. They are really clamping down on us. If we had any more inspections I would have dropped from nervous exhaustion. We have to shake our blankets out daily and five minutes later they are full of dust. They should call this Camp Dust instead of Camp Swift. I bought a summer Garrison hat and today they came out with an order that we can't wear them. Nearly all the fellows here got stung that way. [While Mike and I were in the Army, there were frequent "uniform updates" which, I suppose, kept people employed.]
Everything was satisfactory on the fifth inspection so we all headed out of camp. We went to Taylor and had a nice time at a dance there. The next day I went swimming and had a swell time. There's a little pool in Bastrop and it was really enjoyed.
Monday I was hit with my old faithful "K.P." I would rather walk twenty miles than do K.P. It's really rough. [hyperbole?] Today I had all I could do to keep awake. We're eating out in the field to give the cooks experience and to train us how to camaflouge (sic) ourselves while eating.
I got Kay's letter yesterday and really appreciated it. What about my big brother? I haven't heard from him since he sent me the fudge. Did you get your shirt yet Jackie? I hope it fits and you like it.
Time for lites out now so I'll close with Lots of love, Murray.
p.s. I'm kind of short. Could you send me a couple of dollars?  Thanks. [How I wish "a couple of dollars" would fit the bill today!]