May 9, 1943 [written on beautifully scenic Camp Swift, Texas stationary with borders of local flowers]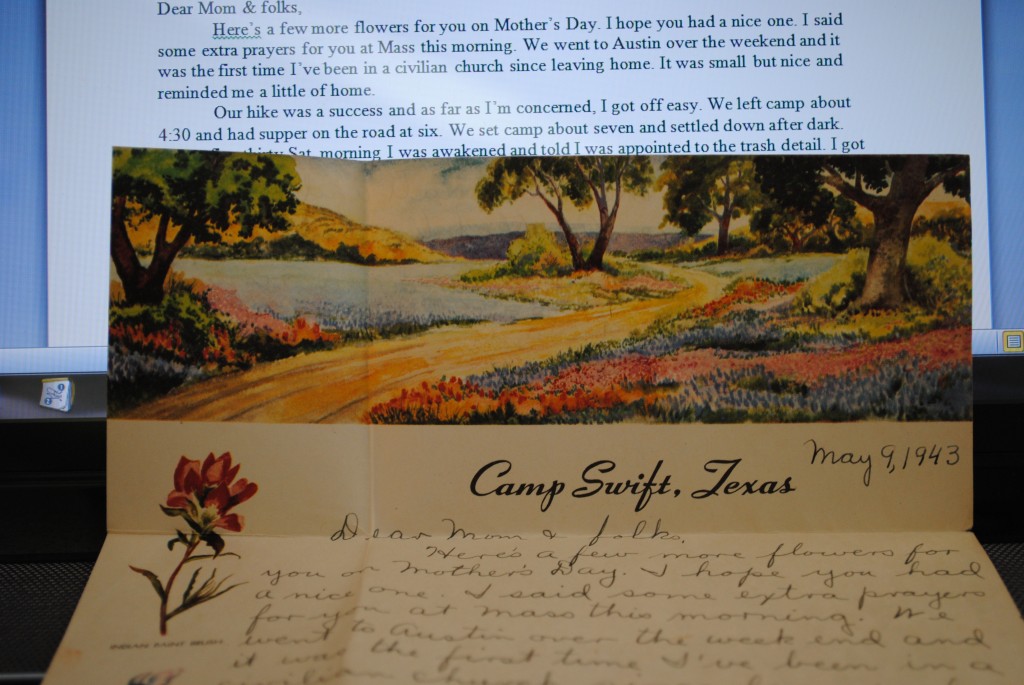 Dear Mom & folks,
Here's a few more flowers for you on Mother's Day. I hope you had a nice one. I said some extra prayers for you at Mass this morning. We went to Austin over the weekend and it was the first time I've been in a civilian church since leaving home. It was small but nice and reminded me a little of home.
Our hike was a success and as far as I'm concerned, I got off easy. We left camp about 4:30 and had supper on the road at six. We set camp about seven and settled down after dark. About five thirty Sat. morning I was awakened and told I was appointed to the trash detail. I got a ride back to camp, had breakfast in the mess hall and was thru work about 10. At that time the outfit came dragging home, tired and ringing wet with sweat. So, as I told you, I got off easy.
Dad, I've been looking over the gabardine suits and as I don't know one cloth from another, I wonder if you would get one at Boston and send it to me. You could get it a lot cheaper and most likely a lot better. I wear a size 14 shirt, 33 sleeves. Have them take the shoulder straps off, as they are for officers. Pants are 31 waist and 32 leg. Down here you have to pay about $20 for one that's worth probably only $12 or $14. I'm in no rush for it, but if I should go to N.J. I'd like to have it to wear home. Try to get one which will hold the press and won't wrinkle easy. Use your own judgement on how much to pay for it and take it from the bank. If you think that tropical worsted is better or cooler, get that one, and let me know one way or t'other.
As soon as I make a change, I'll telegram home so until then keep writing here. That's all for now, Love, Moe.