In my new book Hunt for Red Meat: love stories, I bring you along on my hunting expeditions with my husband as we hunt the wily Colorado elk for over three years!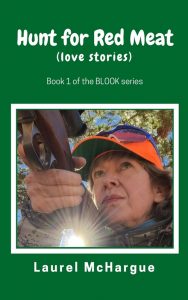 Here's a press release with info about my first book of non-fiction:
If You Give a Girl a Gun, She Just Might Bring Home the Bacon
It's available for download pre-order now, and the paperback is available July 1st, 2017! Remember, you'll always be able to download a free Kindle version of my books when you order the paperback.
Let me know what you think!
~ ~ ~ ~ ~
And if you like my writing, you might enjoy my other publications. Check them out here!