Sure, I wrote this a few years ago, but I'll share again why I believe Mike should have won that contest! Happy Birthday, Darlin'!
~ ~ ~ ~ ~
In a doctor's office waiting room with my Mom and Dad last week and wondering what to do for my hubby's 53rd birthday (which is today), I came across a contest in Redbook Magazine: America's Hottest Husband 2014. All I had to do was write an essay of 500 words or fewer and provide three photos. Perfect! I submitted my essay today: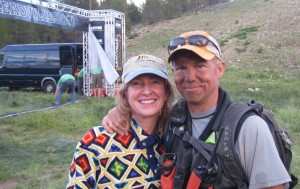 (photo: End of Leadville's Silver Rush mountain bike race in 2011)
Thirty years ago I said "Yes!" to a hunky young stud I had known for less than a year. Not long after, I also agreed to marry him! Although I thought Mike was hot before I knew where life would lead us, when I look at him now, I feel a heat that can only come from years of smoldering companionship, and no, that's not just menopause talking!
What makes my man hot outside of his obvious anatomical attractiveness? His strength—the kind that says, "I will keep you safe," even when I know I can take care of myself; his kindness—which expresses the depth of his character that is even more important than his muscles; his sense of humor—even though it sometimes makes me shake my head and roll my eyes, I know that he would stand on his head for me if it would cheer me up when I'm feeling down (because he has!); his trust in me—that comes from respect and encourages me to do things like attend school reunions alone because he knows that I'll have more fun chatting with my friends without him pretending to enjoy himself; his patience—he will never say no when I want to open our home for friends and strays alike because he knows how happy it makes me; his generosity—the kind that lets me know I come first (unless I don't want to!) and does not begrudge a frivolous purchase I might "have to have"; his adventuresome nature—that spirit of bold goal-setting which first caught my interest and continually reminds me that there will always be exciting times ahead; and most importantly, his brain—his constant quest for knowledge has made him a person I love to be with, and even after 30 years of marriage, we still have stimulating things to discuss! I not only love this man, I honestly like him, too!
Mike has always respected my individuality and my dreams, and has recently encouraged me to leave a paying job to pursue my lifelong desire to write books. He helped me create and raise two remarkable sons. He thinks nothing of being called in the middle of the night to rescue lost hikers in our Colorado mountains. He left a soul-sucking corporate job to work as a public servant in our small community. He works—and works out—with a passion that inspires me, and he's neater than I am around the house. He still wears the same size as when I met him, and still looks smokin' in his camouflage hunting attire. My husband not only brings home the bacon, he also builds the fire and cooks it, sizzling hot and crispy, just like I want it. Now that's hot!
My man possesses all of the traits I find desirable in a man, and I will follow his hot little butt to the ends of the earth. He will always be America's Hottest Husband in my eyes!