Paul Thaler, author of "Bronxland," discusses his new coming of age story and the tumultuous decade of the '60s in America. His story will bring you back to your middle school years, regardless of where you grew up.
Listen here:
Watch our visit on YouTube: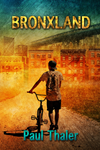 Show Notes with Links: 
Who is Paul Thaler and how did the idea of Bronxland emerge?
Paul, author of Bronxland and other books, shares classroom stories with Laurel, author of "Miss?" and other books.
Discussion about the environment in schools in the '60s and relationships…in the courtyard, with classmates, with teachers
School orchestra award medal story and lessons learned
The true "crush" Paul had on his math teacher and the art project no one will ever forget
Sex in the laundry room and the creepy guy in the theater
The big fight and the idea of respect
A time of innocence and heartbreak
Coming of age story, discovering one's place in this world
JFK was a Bronx boy and greatly influenced PaulPaul Thaler sent me this JFK Bronx school photo (Riverdale Country Day School). Can you guess which one he is? Hint: he's the one who already looks presidential!


Lots of history in the novel…a special place in time…the tragic decade of the '60s
Where did Paul learn compassion?
Story of the missing boy (Etan Patz) and how it's handled in Bronxland
Writing a novel and the "avalanche of memories" that come into play
Black Opal Books and how publishing is sometimes more difficult than writing (because of the letting go)
Our mutual friend June Trop and her work
Aunt Selma and the comic book debacle
Wonderful, horrible characters and the stolen clarinet
What Paul does for fun, why he writes, and will there be a sequel to Bronxland?
Find Paul on Amazon, Black Opal Books, and Facebook (there's a JHS82 page)
More Links:
If you enjoy my podcasts, you might enjoy my books!
If you enjoyed this episode and others, please subscribe to Alligator Preserves on iTunes, Stitcher, or wherever you get your podcasts, and tell your friends about it! I'd love it if you "liked" the episodes you listen to, and I'd love it even more if you'd post a quick comment!
Please support Alligator Preserves on Patreon.  You will be rewarded!