What will you be doing when you're 85 years old?
In this episode, Laurel visits with her friend's 85-year-old father–Bill Olson–and tries to determine why he still works every . . . single . . . day.
This is Laurel's first attempt at curating a story from a last-minute decision to record an unplanned visit. She doesn't plan to leave her home without her Zoom H6 Six-Track Portable Recorder with Interchangeable Microphone System with Deluxe Accessory Bundle
ever!
Show Notes:
Bill Olson…still working… in his office on the Occoquan

Laurel visits with 85-year-old Bill Olson and tries to determine what makes this Minnesota-raised man "tick"

Bill's work on a farm arranged through the Vo-Ag program at his high school
crops and animals and processing
How he was treated in the family of seven and working with more than just animals and crops
Slaughtering pigs and eating fresh liver
Bill's father built their home in 1919
Bill's mother was one of 6 girls. They made a marriage pact
Bill shares a scary memory of murder in Minnesota

Me and my buddy Kristi, Bill's daughter, in sunny…cold…Woodbridge, VirginiaScary memory from his youth

Early work experience
High School, College, and the Korean War
The only love of his life, and marriage
Kristi returns!
Next episode: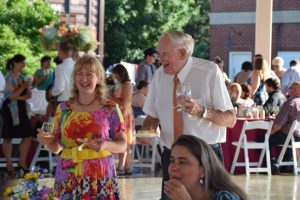 Links:
Submit your books to the prestigious 2018 CIPA EVVY Awards. The website for more information is at cipabooks.com. You have until May 19th, so don't miss out, and GOOD LUCK!
If you enjoyed today's episode and others, please subscribe to Alligator Preserves on iTunes, Stitcher, or wherever you get your podcasts, and tell your friends about it! Please also consider supporting Alligator Preserves on Patreon.  You will be rewarded!