I led a WeWrite session for Chaffee County Writers Exchange this morning and thought I'd have a little fun with my prompt-a-thon. After deciding on a smorgasborg theme, we started the session off with this prompt:
An important person you respect and like is coming to dinner. You prepare a smorgasborg. Who is coming and what will you have on your table?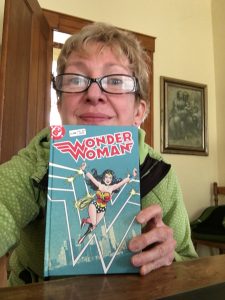 Even though I came up with the prompt, I wasn't prepared to answer the "Who is coming" part. So I closed my journal and got my answer. HA! My Wonder Woman journal (thank you, sister-in-law, for the fun gift) got me started! Here's what I wrote:
When Wonder Woman agreed to spend a weekend in Leadville and speak at our writing group meeting, I knew our first dinner together had to be extra special. I mean, come on now . . . Wonder Woman?
As I had no way to contact her about any potential food allergies—she'd be flying around the planet doing really important work before landing in my back yard for dinner—I'd have to guess what kind of foods she'd appreciate.
And, come on now . . . Wonder Woman having any food allergies? Ridiculous.
Nevertheless, I chose to play it safe and go with a gluten-free, nut-free, dairy-free, meat-free, hormone-free spread. Here's what's on my table:
A bowl full of rusty nails for all her mineral needs
Local spring water for all her hydration needs.
That should be enough. It she's still hungry after dinner, I"ll take her to High Mountain Pies for pizza and beer.
[Hey, I only had 10 minutes to write this, and I used 2 minutes to figure out my "who" and think about dinner. Don't judge!]
~ ~ ~ ~ ~
If you like my writing, you might enjoy my books! Check them out here, and thank you!