Patricia Bernier
January 2, 1929 – October 19, 2017
While on my way to visit Mum in the hospital earlier this week, I started thinking about last words. It's unlike me to stall when it comes to expressing myself, but what last words do you say to a woman whose life has provided the template for your own—a template you will first follow (because you have to), then alter (because you know best), and then ultimately imitate once more (because you have learned a few things since when you thought you knew best)?
Do the words "I love you" say enough? Or "thank you for your guidance, your patience, your discipline, your advice, your laughter, your hugs, your recipes"? Could any words ever express enough?
Our Mum—your sister, cousin, mother-in-law, Nana, aunt, friend—was a powerhouse. If you knew her at all, you knew how much she loved being surrounded by family and friends, and how after most of us moved away she wished all her little chickens would someday be together again on a big family compound.
You might say she liked to be in charge of things. She was a woman of strong opinions, and she was never afraid of sharing them. She raised her children in a "Father Knows Best" era, yet somehow was able to fulfill the expectations of being the perfect housewife while also instilling in her daughters the belief that they were capable of accomplishing their wildest dreams.
Mum's dreams were for her family. Most of you know what a talented artist she was—her paintings hang in many of our homes—but she never pursued being an artist or an interior decorator as a profession. She was also an adept seamstress. The most common thread woven through Mum's life, however, was her faith. She shared a story about when her family moved—she was in 4th grade at the time, so she was about 9—and some of the popular girls invited the new girl into their circle. "After some time I tried to save their souls and told them they'd better join the Catholic church or they would surely lose their soul and go to hell. I firmly believed it and my 'gift of faith' has stayed unflappable, but I have conceded that 'God is merciful' and some might make it to heaven." She then recalled a cute boy who—of course—was Catholic and she couldn't wait to kiss him—"and I did," she said. You might say that she led her life with all kinds of passion.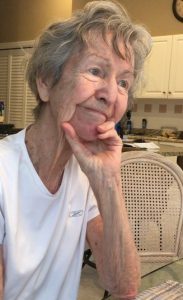 Several years ago while interviewing Mum and Dad about their lives, Mum talked about not having a single regret, except that "I'm not a princess, but my Prince Charming has treated me thus . . . the only way a man should treat the woman he loves." Much laughter ensued, and then she shared an astounding fact. In the entire span of her lifetime, she never once filled her car with gasoline! Can anyone else among you say the same? I do believe that fact alone elevated her to princess status, and in any case, the look in Dad's eyes and his great smile whenever she told her stories were proof enough that she was his queen bee.
About a year ago I asked Mum to jot down a few ideas about how she'd like others to remember her. We girls have loved the way our parents were unafraid of these conversations, and I still laugh when I recall asking Dad for input on his funeral arrangements. "Surprise me," he said.
Here are the things Mum wanted to be remembered for (and I quote):
My love of my God and his wondrous, awesome creation.
That I loved much.
How I handled the joys and sorrows of life. Hopefully with dignity, kindness and generosity.
Having made a happy home with the prince of my life, and raising my children with him.
Being as welcoming to my five sons-in-law and as glowing in the delight of each grandchild and great grandchild, for whom I have great dreams.
Appreciating the path God gave me as I travelled, made new friends, and enjoyed the marvelous companionship and love with Charlie, my "Marco Polo" lover, and
That I used my God-given talents to the best of my ability.
What more need I add to her list?
Some things we whispered to Mum as she finally released her ties to this world were things like "I love you . . . you set the standards for being a mother and a wife . . . thank you for your guidance, your patience, your discipline, your advice, your laughter, your hugs, your recipes . . . don't be afraid . . . your job is done here  . . . your Marco Polo is waiting for you . . . start working on that family compound in heaven . . . but please don't start redecorating until you've been there a while . . . we'll be okay, we'll take good care of one another, just as you've taught us to . . ."
We whispered all the things she already knew.
Because ultimately, it's not the last words that matter. It's the lifetime of words and deeds and the acknowledgment that we all share and endure this human experience, this short visit on a planet designed to challenge us in different ways.
Mum accepted every challenge—even her final one—with grace and dignity, in a manner befitting the princess we all secretly believed she has been all along.