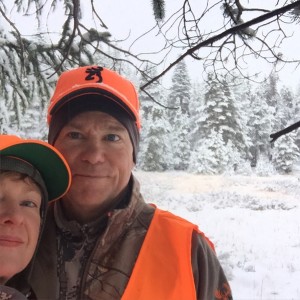 With summer just starting in Leadville, Colorado, it's hard to believe hunting season is just around the corner! We haven't yet learned if we drew tags for this year (fingers crossed), but I'm already brushing up on my harvesting skills. We're down to just a few packages of fajita meat in the freezer from last fall's roadkill, so I'm looking forward to restocking soon!
If you're a hunter or hiker (hunting for breathtaking scenery), you should consider purchasing and learning how to use a GPS (Global Positioning System). It will help immensely when you need to remember where you left your tasty meat, or if you've lost yourself in the excitement of the hunt, it will help you find your way back home!
Sally, a fellow hunter and writer, recently provided me with a Top 10 list of GPS devices and a link to an article with more information about each. Here's what she sent:
~ ~ ~ ~ ~
In the books I read as a child, the hero, well anyone who was hunting, did so with a bow and arrow. They navigated from memory or by using the sun and the stars (not at the same time naturally). Today, it's a little different, but a large part of me loves the idea of ditching technology and going out, me versus the moose mano a mano or well, womano a moose.
Now we have small children and I have a tech obsessed husband, the question has not been what technology to use, but which type of each gadget available. One of the ones he loves most is the GPS device, as someone who is great at navigating without a map, using one is a disaster in the making, so I'll give it to him, GPS are useful because they tell me where on the map I am and how to get to my destination. So, after a bit of trial and error, we've worked through and reviewed the top 10 available right now, which are:
eTrex (Garmin)
Montana 680 Touchscreen GPS (Garmin)
Rhino 750 (Garmin)
Oregon 650t GPS (Garmin)
Garmin 64st
eTrex 10 (Garmin)
eTrex 20x (Garmin)
DeLorme InReach SE
Back Track G2 (Bushnell)
Foretex 401 (Garmin)
That's just the list. I've put together the pros and cons of each as well as a review in this article covering the top 10 handheld GPS devices.
~ ~ ~ ~ ~
Please check out Sally's article for lots of info on this very important tool! I know that after some of my hunting expeditions, I could benefit from knowing how to use a GPS (but so far, my husband hasn't steered me wrong)!
~ ~ ~ ~ ~
If you like my writing, you might enjoy my books! Check them out here, and thank you!