When the fruitcakes stopped coming, we knew Nell was dead.
I met Mike's 2nd cousin twice or thrice removed by marriage when we were young West Point cadets. We managed somehow to earn off-post passes several weekends during our last semester at the Academy, and Nell and Dave lived about an hour's drive away. We'd hop into Mike's sexy red Datsun 280ZX and visit the old folks at their split-level old-folks-smelling home on many acres of overgrown land and think we were in heaven. Anything away from West Point felt like heaven.
They were educated, classy people. Discussions around their dinner table always left us young kids with things to ponder when we weren't busy making out in the music room.
"I don't see anything, and even if I did, I won't tell!" Nell's declaration still makes me laugh. I guess we'd forgotten to close the door.
After we married, Mike and I stayed in touch with them by snail mail, and that's when the fruitcakes started coming. I remember the first year the red box arrived.
"What is it?" Mike asked.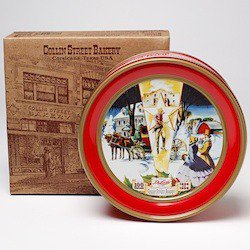 "A fruitcake. Looks fancy."
"Eeww. That's not really even a dessert." Mike has never been a dessert person, preferring a second helping of lasagna over anything that might taste sugary. "You could probably hurt someone with that."
I'm pretty sure I re-gifted the first several years of fruitcakes that came from the Collin Street Bakery in round red "keepsake" tins. They probably got the biggest laugh at several white elephant parties. But one year I decided to honor my by-marriage relatives by keeping their gift for myself. I remember feeling guilty about opening the seal and making that first slice knowing I'd probably end up throwing the rest away.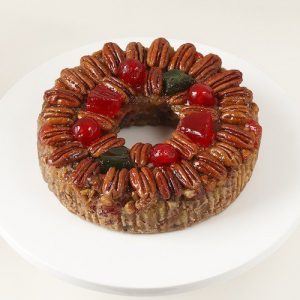 And oh . . . my . . . gosh. It was sumptuous. It may have taken a week, but I ate the whole darned thing. I ate the whole darned thing all by myself every year for several years.
Fast forward to our assignment back at West Point about nine years after graduation, and now we had opportunities to bring our tiny tots to visit with Nell again. Dave had left this world behind, and the woman I thought was ancient when we were cadets now appeared greatly diminished. I remember chopping down our first Charlie Brown tree on her property Jake's first Christmas when Nick was almost three. And I remember feeling sad.
The fruitcakes kept coming for years to several new addresses after we left West Point, and we kept the snail mail authorities in pocket change with our cards and letters. Nell remained active in The Arts programs in her community and would write pages about the goings-on about Warwick, which I could easily read until in her later years when her fingers must have frustrated her greatly.
And then there came no more.
(I'll add some photos of Nell to this post when I find them).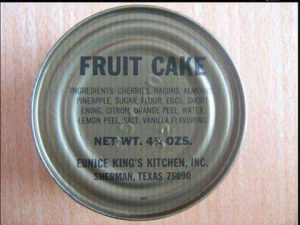 * I was inspired to write this post by a West Point peer, Chip Armstrong, who has a loyal following on Facebook by posting the occasional word or phrase that provokes comment. Today's word was fruitcake, and he even attached a photo of a C-ration fruitcake tin. We would eat anything as cadets, even those cans of tasteless, crumbly, cake-ish dried fruit. Can you say 'constipation'?