Day 1
He trusts me to walk
Behind him with loaded gun.
Crazy husband, mine.
Since I began my "Hunting with Hubby" story with a haiku, I figured I should do the same for my week of hunting. Although I was able to take lots of notes with my iPhone (on airplane mode, of course!) while following Mike for days and days last week, I do not have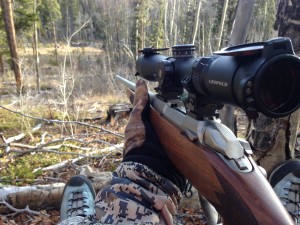 the same luxury this week as I am the one carrying the Sako .308 elk-slayer. Therefore, instead of waiting until the end of the week to gather my notes into one story, I'll do my best to capture the highlights of "My Turn to Bag the Wily Elk" each day. I have until 5:29 p.m. on November 9th to accomplish this.

We started before sunrise yesterday in an area we were told had lots of activity. We covered tons of terrain and I found myself dressed too warmly again. Since I was in the lead this time, however, I got to chose when and where to stop, and I took lots of cool-down and pee breaks. The most exciting activity we experienced ended up being two frisky squirrels bolting out of a nearby tree chasing one another, and one nearly running up my well-camouflaged leg! It took everything in my power not to jump and scream like a little girl, even though there were no elk within earshot.
The day was gorgeous and Mike did his best to locate the source of tidbits left on trails, but to no avail. 
Here's my haiku from yesterday's attempt:
No beginner's luck
Humming "Kumbayah, my elk"
Only squirrels come
Day 2:
We started the hunt this morning feeling hopeful. With the extra hour of sleep (why are we still observing Daylight Savings Time?) and anticipation that the light snowfall would make it easy to find our tasty temptress (I, too, have a cow tag), we set out to a new location.
Hours later with much terrain covered following teasing signs on trails, we returned to the vehicle, elkless again. The spider webs that yesterday glinted with sunshine today were like strands of snow pearls hanging from the trees. Not too far from the road, we found evidence of elk in the area.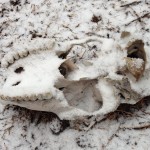 This morning's haiku:
Snow frosted elk skull
Successful kill for someone
Sorry it's not mine
Along with the skull were the pelvic bones and spine, all white as the snow that soon would bury them.
Knowing that we would find easy trails in the snow, we returned to the same spot this afternoon. With me in the lead and feeling like this could be "it," I did my best to ignore the loud scrunching of our boots as we forged forward into the forest. At first it was humorous,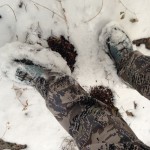 but with each step, my boots became heavier and heavier until I could kick off the mounting platform. I felt a bit like Frankenstein.
Frankenstein trudges
Hiking boots laden with snow
Scaring elk away
After a couple of hours of seeing nothing but rabbit and squirrel tracks, I started to get a little irritated. I was tired. I was hungry. I was making far too much noise in the winter wonderland of woods and caved-in mine shafts to sneak up on any prey. It was snowing, the sun was setting, and all I really wanted to do was go home and enjoy a glass of wine. Screw the wily elk.
Mike could tell I was starting to feel petulant and took the lead, trusting me to follow him, on slippery surfaces, with a loaded rifle. When he suggested that we crest one more hill to "see what was on the other side," I almost cried. Instead, I turned around.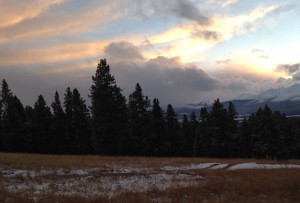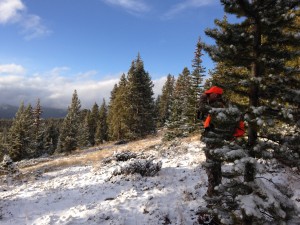 "See?" he whispered. "We're doing real hunting. There aren't too many people seeing this view tonight." And he was right. We decided then to go just a bit further before heading back (how I loved to hear that phrase!).
Not 20 feet away, we found a fresh track, an elk track, in the snow, heading downhill. With adrenaline pumping, we followed the trail down and down and down…and down…and around…until it stopped, right by a large pine tree. I looked up. Not there. It was truly time to head home.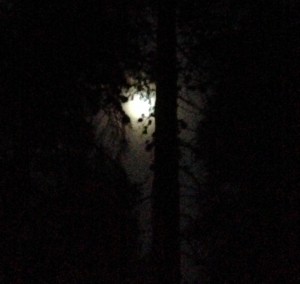 By the time we reached our vehicle, it was quite dark. The rising moon shone through the foggy haze of rolling clouds and melting snow.
Perhaps tomorrow will be "it," the day I will bring down my first elk. If not, I'll just have to suffer through my spectacular surroundings a little longer.
Wish me luck!