7:10 a.m. and I've slept through the night, the first time in months. This amazes and delights me. I hit the pillow at 10 last night feeling drugged. Maybe popcorn, white rice, M&Ms and Campari over ice make the perfect pre-sleep meal.
My dream lingers. I'm at my cousin's funeral and there's a young boy there talking incessantly, oblivious to his somber surroundings. I'm really irritated at this child, but there's nothing I can do without making the situation worse.
I allowed myself the indulgence of waking without an alarm because my walking buddy isn't available this morning. Typically we're on the road at 7 and home by 8. I shake off the dream-webs and stretch my legs over the edge of the bed. Ranger stretches as well, yawns noisily and licks my toes.
After peeing like a rhino, I wash my face, slather on SPF 15 and fill in my gray-blonde eyebrows with brown eye shadow. "Don't leave home without your eye-browns" is Mom's beauty tip this year, as if anyone will notice my "eye-browns" under my visor and behind my mirrored glasses. I know it helps to frame my eyes, and I might as well do it now since I probably won't shower today. It's part of my morning ritual.
I throw on my walking clothes and let Ranger out the back door. I was too tired to take him for his routine evening stroll last night and I feel bad. He, too, pees like a rhino in the back yard and wants to come back in immediately. He's my shadow.
I make the bed, though no one would notice that either. Admiral McRaven delivered a speech to UT graduates this year in which he told them to make their bed every morning. If you can't do a little task like that each day, how can you expect to accomplish anything greater? It's a simple concept, and I do like walking into a neat room.
Mike has already been working for an hour. I sip hot coffee with him and we chat about the upcoming day. I throw together rice and eggs and cheese before his first meeting, and since he can't eat it all—he rarely eats breakfast—I finish it with a second cup of coffee. "Laurel never has a 2nd cup." I think we should watch Airplane tonight to offset the sadness in the world.
By 8:30 Ranger and I are out the door and noticing the 90-minute-later temperature difference. I generally wear a light jacket and am comfortable until we get home, but this morning, I remove it almost immediately. Last week of July and it finally feels like summer in Leadville.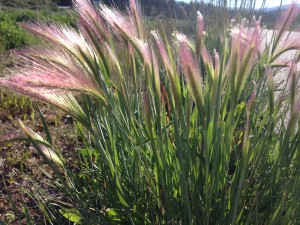 We hustle up the hill and Ranger is happy when I stop to take photos of whatever catches my eye: wispy grasses, sun pouring through bridge beams, clover patches buzzing with bees. Inappropriate Army cadences come to mind: "Roll me over in the clover do it again, do it again."
Turning at the bridge to head back home, I check out the Mt. Massive skyline. It's beautiful. It's always beautiful, but by 9 a.m. the brightness of the day washes away the crispness of the earlier contrast between mountains and the just-rising sun.
"Beautiful dog!" someone yells from an ATV. I get that a lot.
Back home by 9:30, my beautiful dog pants in the shade out back while I tidy up in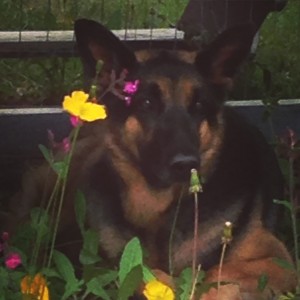 preparation for my writing group to arrive. I do a speed-vac of the downstairs, enough to pick up the dusty clumps of dog hair gathered in corners and around chair legs, and pour M&Ms and peanuts into bowls.
My group, two high school girls today, meets me on the deck and we write and chat and challenge one another for two hours. They don't know it, but I'm honored by their presence each week. It's something they don't have to do. Much like my morning walk, it has become a ritual I relish.
Thunder clouds roll in early today and by 4 p.m. the ground is soaking up the drenching rain. The couch is calling me. Time for a nap.