I've been looking at my piano in the small foyer of our 1890s Victorian home for almost six year now. I dust it before guests arrive, and adorn it with nic nacs for whichever holiday is closest.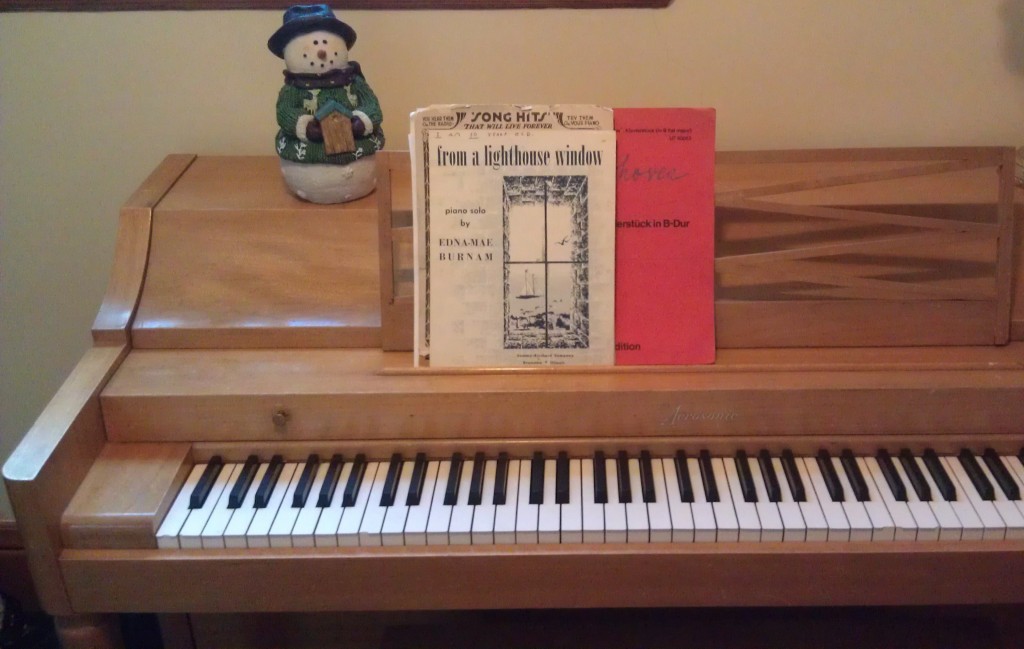 My parents purchased the lovely little spinet from neighbors for $400, a huge expense back in 1968 for parents of five growing girls, but I really wanted to learn how to play the piano, and I think my parents were hoping for a prodigy. "The Bernier Five" hadn't made it big yet (and I don't believe there was ever actually a time we all sang together), and my Dad's mother could play beautifully. I would be a natural.
I didn't tell my parents that the reason I wanted to play the piano was because my best friend Marilyn (my exotic new dark-skinned neighbor who moved across the street in kindergarten) was learning how to play. I also wished for glasses that year after seeing her wear new tortoise shell cat-eye glasses to school for the first time. Sadly, I soon got my wish.
Marilyn and I took lessons together from the nuns of St. Francis of Assisi in Braintree, Massachusetts for two years. She would have a 20-minute session, then I, and then we would have 20 minutes together for duets. It was wonderful, and our secret competition kept us practicing between lessons. The nuns were strict, and we learned to memorize challenging pieces for nerve-wracking recitals.
When the nunnery closed (and I do not recall why that occurred), I continued with private lessons for another year from a man up the street. He was expensive, and I didn't have my buddy with me anymore; by then I was beginning to lose interest. I did, however, learn how to wiggle my ears during one particularly intense lesson that year while concentrating with all my might on a difficult line of music. When I could not stop giggling…and would not tell my teacher why I was being so inappropriate…my lesson was cut short, and I walked home feeling both guilty and giddy.
When it became apparent that I was not going to be the next Liberace (though I would someday develop a flair of my own), I stopped taking lessons, though I still practiced my songs frequently. I continued to dread performing for guests (something I was expected to do, and looking back, it was probably really good for me), but as I matured, I'd vent my emotions on the ivories when I found myself home alone and feeling petulant (a frequent occurrence throughout my teen years).
Mom and Dad gave me the piano when I married and it has traveled with us for 20 year of Army relocations. I made both our boys take a year's worth of lesson when they were young, and they were not prodigies, either.
It looks lovely in our foyer, and over the past 5+ years I have played it a handful of times, generally right before Christmas when I'll pull out my ancient books to prove to myself that I can still play a thing or two. But generally I avoid sitting on the little piano bench (other than to pull off snowy boots), and with each passing avoidance I feel a twinge of guilt.
It feels like when someone has given you a gift and you've somehow let too much time pass before sending a "Thank you." Before you know it, you've decided that it's really too late, and you rationalize your failure to do the right thing. It's not a good feeling.
And so today I pulled out the bench. I opened it and found the first recital piece I ever had to play in public: "From a Lighthouse Window" by Edna-Mae Burnam, and I played the heck out of it.
It felt wonderful. Thank you, old friend.