We love the trailer
Life, it's simple if you love
the one you've chosen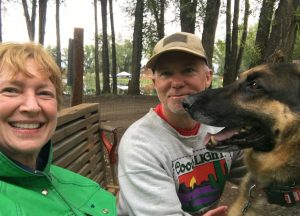 I've written it before and I'll write it again: I love our trailer-trip adventures.
Two nights. Two nights of unplugging from the requirements of home and the barrage of politics and the lull of routine is all we needed this past weekend to return to it all feeling like we'd just spent a week at a resort.
Our resort: a KOA in Gunnison with full hook-ups, lots of green grass, clean facilities,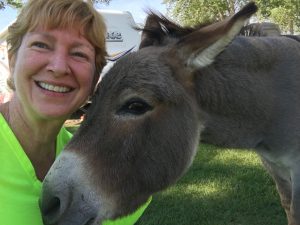 friendly owners, and surprise visitors. Ginny and Herbie must have known Mike and I were ass-kissers, or perhaps they were curious about our handsome dog. Maybe they smelled the bag of carrots I'd just brought out to munch on. In any case, they were both at least 29-years-old, and Ginny was nearly blind.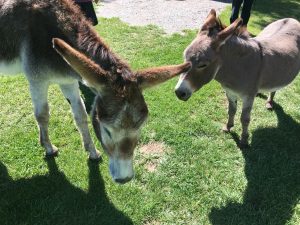 Ranger was not inclined to welcome the unleashed beasts as freely as we were, however, and after an initial sniff (with Mike pulling him away from unpredictable rear-ends), decided they were untrustworthy. He remained quietly aloof for the duration of their visit.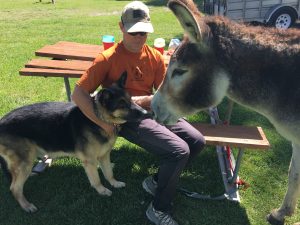 In the evening, we kayaked/paddleboarded on Blue Mesa Reservoir, and I marveled at how different an experience it was from our peaceful paddle at Twin Lakes last week. This reservoir was enormous, and when clouds filled the sky and the wind picked up, the waves were Old Man And The Sea-worthy. I hooked up to Mike's kayak for the final push to shore after 90 minutes of hard, enjoyable work, and after a few games of Cribbage and a shot of Dewar's after the sun set, slept like a cat in a hat.
While Mike rode his bike at Hartman Rocks the next day, I did my trailer push-ups (to spread awareness of the number of veterans who commit suicide each day, the #22kill campaign) and wished I'd thought to do 22 push-ups against the burros during their visit.
We returned home to an extra layer of snow on the mountains and a brilliant sunset, the perfect Leadville summer evening. Soon our lake will freeze, but for now:
Fiery August sky
Turquoise Lake oblivious
Snow on Mount Massive
(thank you, Mary Howard, for reminding me to haiku my visions!)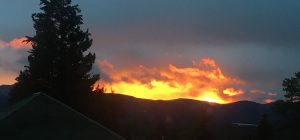 Yes, you all know by now that I love haiku. I think my opening haiku for this post is the best I've written. See how many ways you can read/interpret it! Haikus Can Amuse! (get your copy today!)
If you like my writing, you might enjoy my books! Check them out here, and thank you!